Monthly Archives:
July 2021

About the brand
Coinrise claims to be a premium online trading platform offering professional services for a variety of services, thanks to an optimized and diversified infrastructure. When holding an account with this provider, customers can choose from both trading and investing opportunities, having numerous ways to invest their money in the financial sector.
With investing opportunities such as private debt, growth and VC, or private equity, this brand carries an important edge as compared to other competing brands. Today we want to see if Coinrise truly deserves your attention and if it does, what the reasons for it are.


Coinrise platforms
Given there is a variety of trading and investing services provided, Coinrise customers can benefit from a trading and an exchange platform, each tailored for unique purposes. The first one is ideal for volatile assets, such as cryptocurrencies, which are now covered by the brand.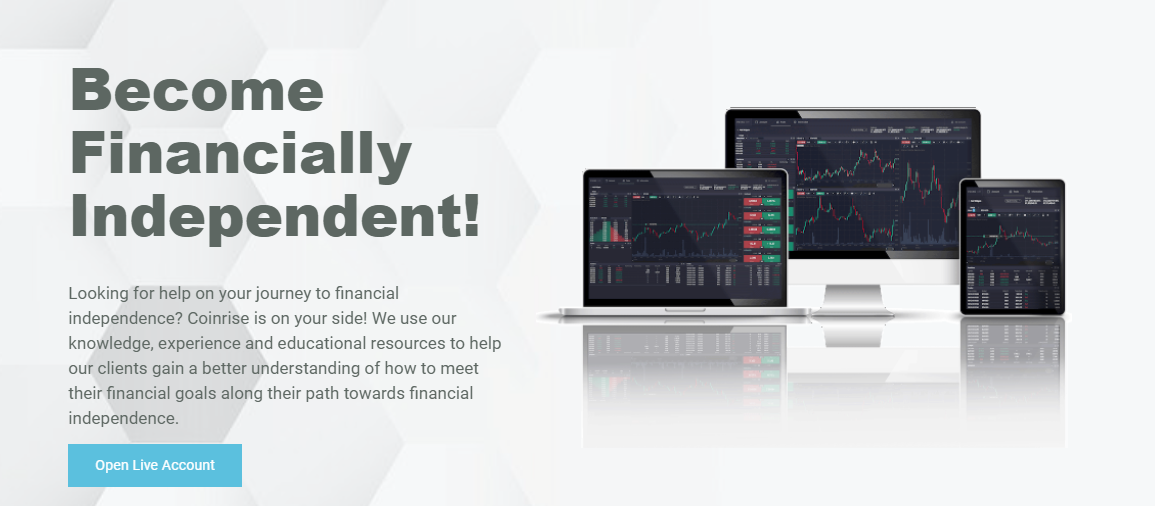 A customer-friendly interface, as well as a rich pack of trading tools, have both been integrated to ensure both beginners and experienced traders get to enjoy the markets in their own way. At the same time, those willing to make longer-term investments will find the second platform of choice to be well-optimized and in line with the latest requirements. 
Coinrise accounts
New customers come to Coinrise with different goals and that is why a tailored account offering was required. There are no less than 6 options currently available, each integrating features such as:
Competitive commissions

Low minimum deposit

24/6 customer service

Account executive assistance

Flexible leverage

Trading signals

1-on-1 educational course

Trading alerts

Access to a premium trading room
By choosing a mini, silver, gold, platinum, diamond, or VIP account, a user will unlock a given pack of features, based on the initial deposit. The larger the account is, the more benefits associated with it. Deposits can be made using credit/debit cards or wire transfers, as well as e-wallets. 
Customer support
If you want to talk to a Coinrise representative, there is a multilingual support team available 24/6. Via Whatsapp, email, live chat, and the option to request a callback, users can get quick answers to any trading-related question. There is also a contact form on the website, to make sure everyone gets a reply in due time. 
Conclusion
The opportunities emerging around the financial spectrum act as an incentive for retail customers. Technology and free access to education enables any individual to start trading or investing from the comfort of their own place. Coinrise turns out to be a place where both of these activities can be performed. The features offered are optimized and in line with what any retail trader/investor would like to receive now. 



The cryptocurrency market has been rising and falling this year, and the emergence of new coins has created opportunities for brokers and traders alike. 
Many people are interested in joining crypto trading, and finding a suitable broker is a good start.
This is CFGlobal Trader, which offers the trade of large-cap digital currencies and altcoins like Litecoin, Chainlink, Quantum, Ontology, EOS; they also offer over 250 cryptocurrency pairs.
About the brand
CFGlobal Trader is a cryptocurrency broker that offers trading via a comprehensive trading platform developed by an experienced team of traders and software developers.
With a vast network of 2M+ active traders, the broker has so far garnered experience of about a decade in the industry.
Trading Platform
The trading platform offers a user-friendly interface that is easy to navigate, quick execution, and multi-device compatibility. 
The platform also provides reliable risk management tools, educational materials, daily market news, and trading alerts to all users.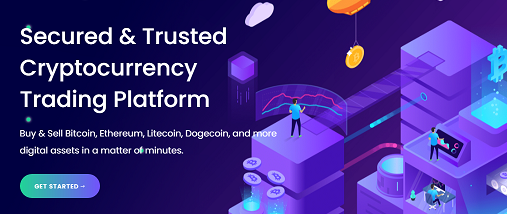 Account Types
The broker offers different account types to its traders, and every account holder is provided with 24/6 customer support and signal trading.
To get started, a minimum of €250 is required for trading with specific leverage offered as per the account type chosen.
CFGlobal Trader's account types are categorized as:
Bronze

Silver

Gold

Premium

Pro
Account holders are offered special welcome bonuses, starting from 20% for Bronze account holders and up to 60% for Pro account holders. Gold, Premium, and Pro members get access to daily news updates and trading alerts.
TFSA + Mutual funds financial advisors and VIP mentors are assigned to Gold, Premium, and Pro accounts. However, Bronze and Silver also benefit from daily signals and withdrawal authorization within six business days. Personal educational courses are offered to Premium and Pro account members.
Customer Support
CFGlobal Trader offers 24/6 extensive customer support to all its users and incorporates a help desk that helps you answer almost all queries.
Customers can reach their support service via phone and email. However, no live chat service is available.
In addition, the broker also provides educational materials to Premium and Pro traders. However, the exact form of educational support offered is not specified, so we recommend consulting an account manager regarding the matter.
Summary
To conclude, CFGlobal Trader offers reliable, knowledgeable resources and welcome bonuses to its traders for an intuitive and motivating crypto trading experience. The customer support team stays available for all its account holders 24/6.
Additionally, the veteran broker also allows flexible withdrawal methods depending on the account chosen. With strict security protocols regarding account and personal details, CFGlobal Trader is undoubtedly a broker to consider.