Category Archives:
Broker Review

About the brand
Coinrise claims to be a premium online trading platform offering professional services for a variety of services, thanks to an optimized and diversified infrastructure. When holding an account with this provider, customers can choose from both trading and investing opportunities, having numerous ways to invest their money in the financial sector.
With investing opportunities such as private debt, growth and VC, or private equity, this brand carries an important edge as compared to other competing brands. Today we want to see if Coinrise truly deserves your attention and if it does, what the reasons for it are.


Coinrise platforms
Given there is a variety of trading and investing services provided, Coinrise customers can benefit from a trading and an exchange platform, each tailored for unique purposes. The first one is ideal for volatile assets, such as cryptocurrencies, which are now covered by the brand.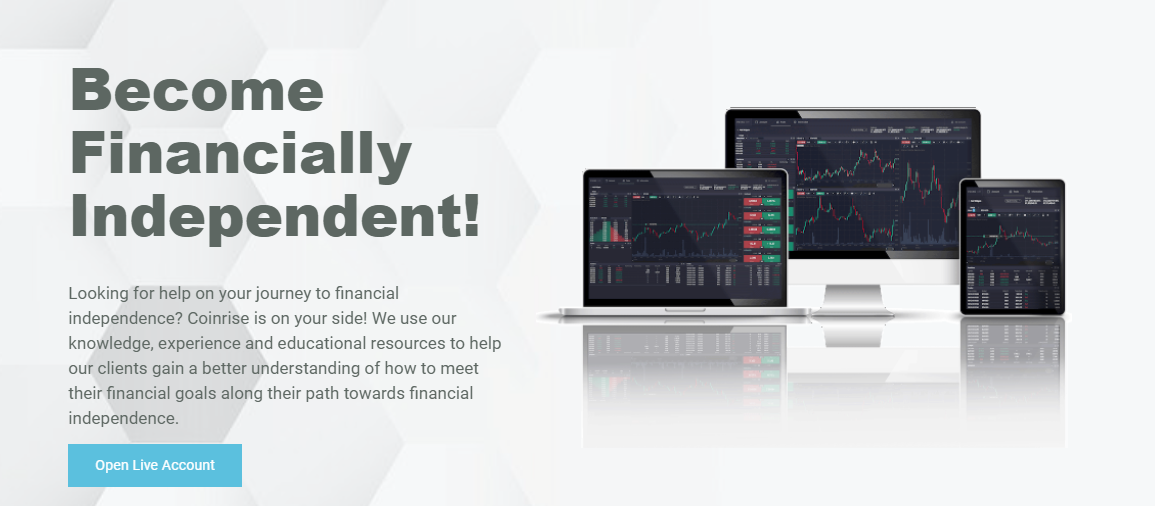 A customer-friendly interface, as well as a rich pack of trading tools, have both been integrated to ensure both beginners and experienced traders get to enjoy the markets in their own way. At the same time, those willing to make longer-term investments will find the second platform of choice to be well-optimized and in line with the latest requirements. 
Coinrise accounts
New customers come to Coinrise with different goals and that is why a tailored account offering was required. There are no less than 6 options currently available, each integrating features such as:
Competitive commissions

Low minimum deposit

24/6 customer service

Account executive assistance

Flexible leverage

Trading signals

1-on-1 educational course

Trading alerts

Access to a premium trading room
By choosing a mini, silver, gold, platinum, diamond, or VIP account, a user will unlock a given pack of features, based on the initial deposit. The larger the account is, the more benefits associated with it. Deposits can be made using credit/debit cards or wire transfers, as well as e-wallets. 
Customer support
If you want to talk to a Coinrise representative, there is a multilingual support team available 24/6. Via Whatsapp, email, live chat, and the option to request a callback, users can get quick answers to any trading-related question. There is also a contact form on the website, to make sure everyone gets a reply in due time. 
Conclusion
The opportunities emerging around the financial spectrum act as an incentive for retail customers. Technology and free access to education enables any individual to start trading or investing from the comfort of their own place. Coinrise turns out to be a place where both of these activities can be performed. The features offered are optimized and in line with what any retail trader/investor would like to receive now.