Monthly Archives:
April 2021

General Information
As far as trading platforms that are designed for retail traders are concerned, Super-Five is a cryptocurrency trading platform that offers traders benefits that are specific to crypto trading, to include access to tens of tokens that are currently showing substantial gains. The substantial and consistent growth of the Bitcoin and Altcoin market over the last couple of years has led to an increase in interest among the general public in crypto investments and short-term trading.
With Super-Five, traders can enjoy multiple benefits, to include:
–          Trading at any time, from any place via web-based platform
–          Dedicated support team via live chat or email
–          Popular payment methods for deposits and withdrawals
–          Emphasis on account security via SSL encryption 
With this impressive, feature-packed offering, Super-Five's offering is definitely worth consideration, and in this review, we will be taking a wider look at the company, platform and features, and highlight some of the main reasons why both beginner and experienced traders alike wishing to enter the world of crypto trading would do well to consider what Super-Five's has to offer.

Services and Cryptocurrencies Supported
Super-Five's offering focuses primarily on cryptocurrency trading services. The company allows traders to buy and sell a wide array of cryptocurrencies, without the need to hold on to the underlying instruments. This means that traders can profit from fast execution and short-term price movements with good prices.
Super-Five's crypto coverage includes Bitcoin, Ether, Cardano, Polkadot, Binance Coin, XRP, Bitcoin Cash, Chainlink, Stellar and Monero. Considering that the Crypto trading schedule runs 24/7, traders are well positioned to take advantage of market fluctuations every day of the week, including the weekend.
With Super-Five, trading is done via WebTrader, an optimized online platform that traders can log into from any laptop, computer, tablet or smartphone by logging in via the Super-Five website. This software solution is optimized for performance and speed, does not require any installation, and allows traders to conduct trades in a matter of seconds. With this optimized solution, traders can take advantage and place trades at any time and place of their choosing.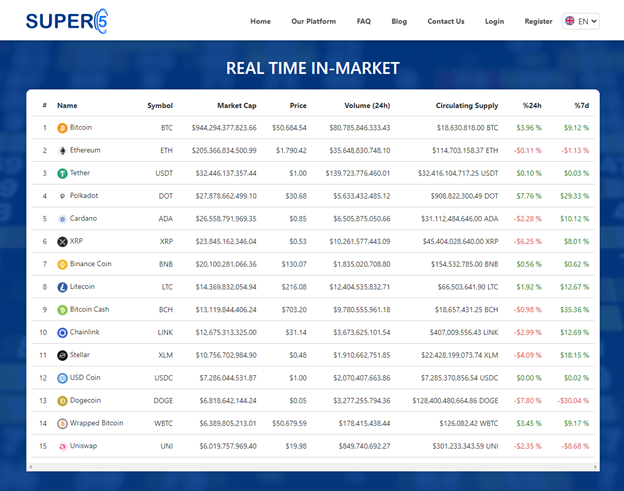 Payment Methods and Fees
Super-Five aims to offer fast and secure financing options and supports the top payment methods that are commonplace in the market today. Traders can make deposits using a credit or debit card and start trading in no time. This prevents the need to wait for days on end until funds are available in the user's account. When it comes to payments, Super-Five accepts payments in USD, GBP, or EUR.
With Super-Five, fiat deposits can be made via wire transfers in USD, GBP, or EUR. That being said, wire transfers will require a prolonged waiting time that depends primarily on the speed of execution on the side of the banks that are facilitating the transfer of funds.
Super-Five's withdrawal policy is clearly stated on the company website and describes in detail the steps that traders need to take in order to complete withdrawals. The compliance measures put in place by Super-Five require that all customers, regardless of their country of residence, to verify their accounts by submitting several personal identification documents.
When it comes to withdrawals, traders must also keep in mind that for credit or debit card withdrawal requests, the minimum withdrawal amount is 100 units in the account's preferred currency, and 250 units when it comes to wire transfer withdrawal requests. Once a withdrawal request is approved, the funds should be available within no more than 10 business days.
Customer Support
As a trusted brand, Super-Five maintains ongoing, consistent contact with its customers, by means of their dedicated team of customer support representatives that are accessible in a quick and easy manner via the live chat feature available at the company's official website. Furthermore, traders can reach out to the dedicated support team via email as well, and request a callback.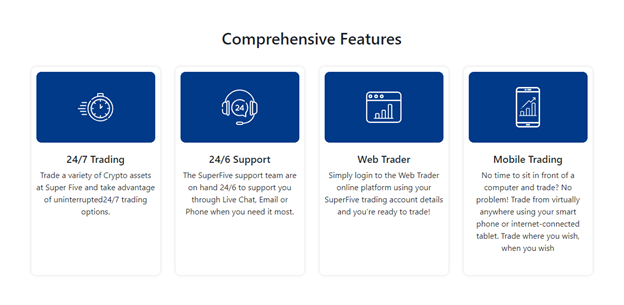 Geographical Restrictions
Super-Five provides services that are intended for retail traders from all over the world, focusing on traders living in countries that do not have legislation in place that prohibits online trading. Traders need to look up local trading regulations in the country where they reside in order to ensure they are not restricted from opening an online trading account. For further information on trading eligibility, traders are welcome to contact Super-Five's representatives.
Summary
As we've shown in this review, there are plenty of reasons for traders to consider Super-Five's service offer. Super-Five is a trusted cryptocurrency trading platform that offers traders the ability to trade with no worries thanks to its reliable trading software, its diverse crypto coverage and the multitude of other benefits included in its service offer, to include a 24/7 trading schedule, professional customer support and secure payment methods.
Traders choosing Super-Five are in a very favorable position to take advantage of the volatility of the cryptocurrency market due to the increasing demand for crypto assets by beginner and expert traders alike. There are only a handful of companies that offer traders the ability to trade in this many different cryptocurrencies on a single account. This is without a doubt one feature that puts Super-Five at the top of its field among its competitors, and why we recommend that you check them out to see if they are right for you.