Monthly Archives:
December 2021



Trading digital currencies like Bitcoin, Ethereum, and others is becoming quite popular as more and more people learn about the fascinating crypto industry. But before you get carried away by all the lofty promises that come with crypto trading, keep in mind that this type of financial activity comes with some risks. 
Finding a reliable and trustworthy broker can be challenging, especially with the myriads of trading platforms out there. But is a broker like CoinsMarkets the right one for you? Read today's detailed review for everything you need to know about CoinsMarkets. 
About the brand
CoinsMarkets has established itself as a force to contend with in the crypto industry. The company claims to provide its customers with industry-leading software and enhanced security. 
Thanks to their multifaceted platform, CoinsMarkets provides traders an opportunity to explore crypto trading from a whole new perspective. With CoinsMarkets, customers access versatile digital assets, impressive customer support, and sophisticated toolkits. 
Customer Support
One of the unique things about CoinsMarkets is its dedicated customer support team. They are professionally trained and available 24 hours a day, seven days a week, to respond to technical issues and general queries from customers. The broker also made provision for individuals looking for a swift response by offering a live chat service.  
Furthermore, clients can email the broker directly via the online contact form.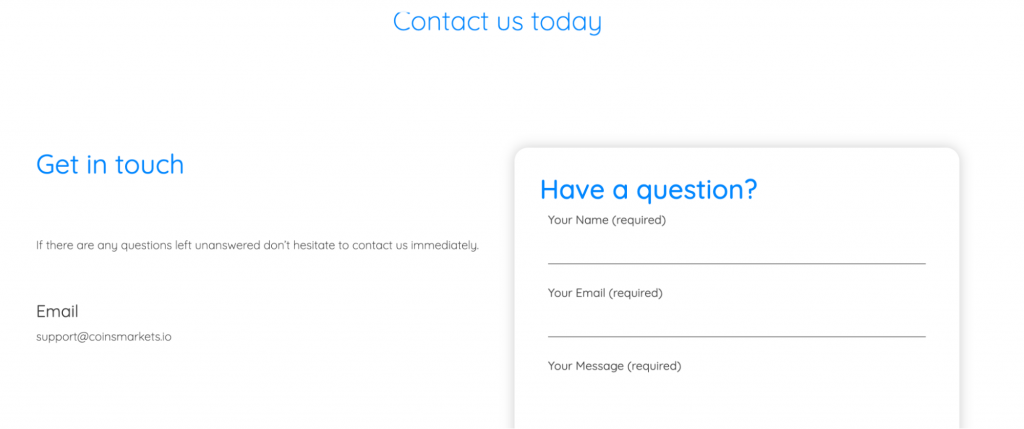 Withdrawal policy
Even though CoinsMarkets has an efficient and quick withdrawal process, they take the safety of users' funds pretty seriously. For this reason, the company verifies users' identities every time a withdrawal request is initiated. 
In line with its compliance policy on withdrawals, CoinsMarkets usually request users to submit an ID copy, proof of payment, and proof of residence. Once these documents are reviewed and deemed correct, the company will process your withdrawals. 
Trading platform
CoinsMarkets debuts a trading interface that is intuitive, user-friendly, and easy to navigate. Their web-based trading solution is one of a kind and features all of the remarkable trading toolkits that make for a seamless technical and fundamental analysis. 
Featuring charts, indicators, graphs, and a crypto calculator that is easily accessible on the platform, CoinsMarkets is keeping to its promise of making digital asset trading a smooth experience for amateurs and professional traders. 
Furthermore, the web-based solution can be accessed via all electronic devices and operating systems. 

Summary
CoinsMarkets provides remarkable services, including excellent customer service and access to a fantastic web-based trading solution. The company's advanced security encryption protocols ensure that clients' funds are kept safe from any malicious attempts, and therefore, we can consider CoinsMarkets a reliable broker.