Monthly Archives:
March 2021

SuperFive Overview
SuperFive is a dedicated cryptocurrency trading platform targeting retail traders from various countries focused on getting access to personalized and competitive crypto trading services. Since this brand relies on simple, safe, and fast trading technology, its services are worth noting, as Bitcoin and all major altcoins continue to be very volatile.
This is where a series of comprehensive features can be found, including a powerful WebTrader, 24/7 trading schedule, and 24/6 support granted to all customers. SuperFive looks well-positioned to incentivize more people to get involved in the cryptocurrency space, at a time when various large companies are starting to accept crypto as a medium of exchange.
As we're about to see, a trading account with SuperFive offers access to a diverse list of crypto instruments, enabling people to take advantage of price movements across a large spectrum of altcoins that are still not covered by other leading providers. Let's analyze some of the top SuperFive features and see if this platform is worth your attention.

Trading Platform
The SuperFive trading platform is a personalized solution offering the chance to trade exclusively online, without any installation or download required. This browser solution can be accessed by filling in your login details on the website.
Although there are various other trading solutions in the market, this brand had chosen to rely on a proprietary one, aiming to provide tailored services that can meet the demands of the cryptocurrency market.
Traders use the same technical methods as with other asset classes, the main reason why WebTrader integrates advanced charting and most of the popular indicators. However, increased security and fast trade execution had been taken to a different level, helping traders feel more comfortable while trading. SuperFive takes care of all these details and lets customers put all the effort into finding accurate trading opportunities.

SuperFive Crypto Assets
If we talk about a crypto-only trading platform, expectations are elevated in terms of the cryptocurrencies available. SuperFive manages to deliver and is currently offering access to a broad range of tokens. Bitcoin had managed to reach several impressive milestones over the past few months and it is now trading around $57,000. The same goes for Ether, the second-largest crypto, which had reached $2,000 for the first time.
However, large potential can be found in other altcoins as well. The SuperFive crypto asset list includes Polkadot, Chainlink, EOS, Neo, ZCash, Dash, IOTA, and other altcoins that on top of outperforming Bitcoin, are cheaper.
SuperFive Account
Opening and managing a SuperFive account would be convenient for every person, even when it comes to those with no prior experience in trading cryptocurrencies. After simplifying the entire process, the company is now a friendly place to get involved in the fascinating world of cryptocurrencies.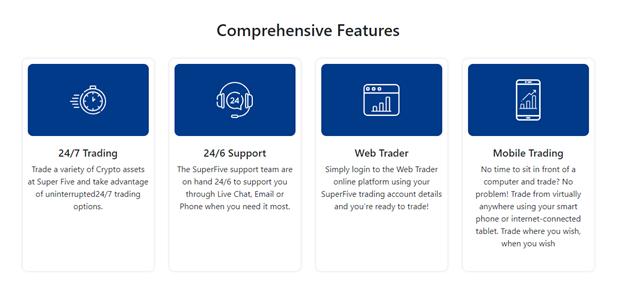 If you want to deposit EUR, USD, or GBP into a live account, SuperFive is accepting payments via credit/debit card or wire transfer. These are still some of the most trusted options in the market.
Some details need to be provided about compliance standards. All customers registering for a live account with this provider will need to send several identification documents and get their account verified. Without completing verification, SuperFive representatives won't approve any withdrawal request.
Trading Education
Cryptocurrency trading is a relatively new concept, as compared to trading other popular asset classes. SuperFive is aware of this and is offering help to its customers via several different methods. First, it is important to highlight that all live accounts will benefit from the assistance given by a representative.
Proper guidance will ensure that getting past the early stages can be done without major roadblocks. On top of that, SuperFive has a blog section on its website, where various articles are constantly added. You can learn trading strategies, insights into various cryptocurrencies, what are the trending tokens, or details on how to ensure high security while trading crypto, all in one place.
Summary
The future might bring both good and bad things for cryptocurrencies, but regardless of the outcome, trading crypto with SuperFive ensures access to services that allow taking advantage of all conditions. You can even short the market when prices are falling to generate income in a bearish market. This market has a cyclical behavior and following a major bull run, sharp retracements are very likely to follow.
Trading with SuperFive will enable traders to benefit from those periods without having to buy and hold the underlying cryptocurrencies. The services offered are transparent and can be used by any type of traders, even those that are getting in contact with crypto for the first time.