Category Archives:
Reviews
About WebAcademyst
WebAcademyst is an online platform where users can purchase a variety of online courses. Due to the COVID-19 pandemic, numerous people started to look for new opportunities in the online world. Even now, after more than a year and a half, there continues to be a lot of worries in terms of when a return to normal is to occur and because of that, people need to start treading down a new professional path. 
At the same time, e-learning has democratized access to information, and thanks to platforms like WebAcademyst, people can learn almost anything from the comfort of their place, preserving their finances and enjoying flexibility while learning. 

The WebAcademyst Courses
WebAcademyst believes the future of online learning should be accessible and democratized so the global public can learn any skill or endeavor. At the time of writing, the company offers courses in domains such as:
Affiliate marketing

Business branding and marketing strategies

Business entrepreneurship

Google workspace and AdWords

Introduction courses

Social media marketing and SEO

Social media selling and lead generation

Spirituality, productivity and mindfulness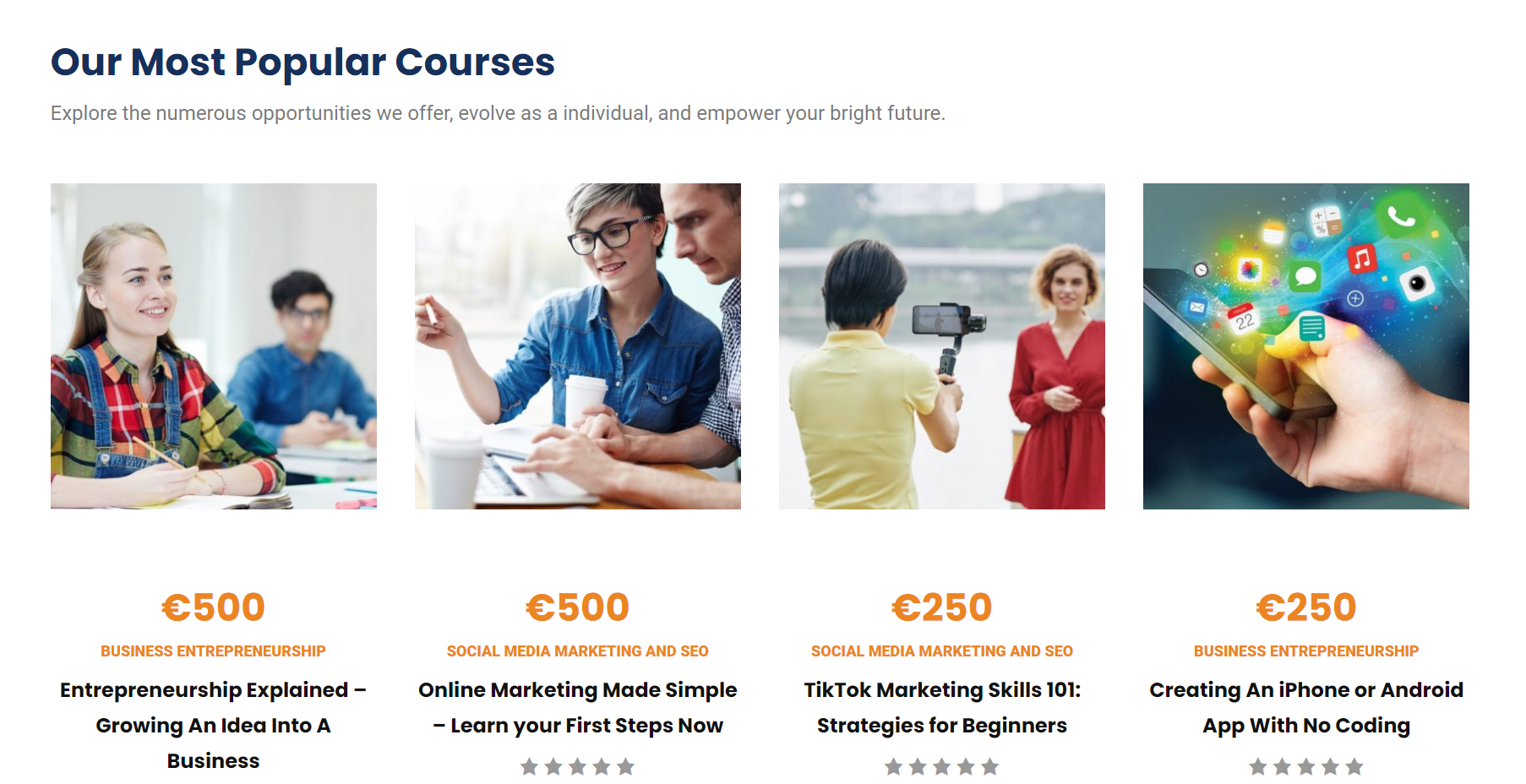 Versatile in nature, the WebAcademyst courses span from personal care and leisure activities, such as lifestyle, health, food, to in-depth education regarding various professional fields. For each course, the company provides a full range of details, including price, table of contents, requirements, and the main benefits. 
Is WebAcademyst Trusted?
Since the satisfaction and security of customers is a top priority, WebAcademyst provides a 14-day Money Back Guarantee on the first purchases of all new students. In case anyone is not satisfied with the courses, the company starts by addressing any inquiries with a professional attitude and if a solution can't be found, the customer can ask for a refund.

Also, WebAcademyst is a transparent brand, sharing all the relevant information on its website. Before purchasing a course, any potential customer can conduct an in-depth analysis and make sure this company has an established track record in fulfilling its promises. 
Customer Service
Some people will probably like to get in touch with a WebAcademyst representative before making a purchase. That is possible thanks to the customer service available during working days via email or by submitting the contact form on the website. The company is aware that only by keeping close contact with its audience, can it continue to expand its customer base. 
The Bottom Line
WebAcademyst turns out to be a place where people can find a wide range of online courses. Regardless of the area of interest, any person can find valuable information at an attractive price. Knowledge is still at the core of any profession and as the world is changing constantly, there is a need for updated and useful information.
This company seems to specialize in doing that, a fact proven by the people who have already bought a course and showed a great deal of satisfaction. More information can be found at webacademyst.com.

Owned and operated by Cabsy Holdings Ltd. 500Investments are an online trading brand providing access to 1,000+ assets, a proprietary trading platform, a wide range of trading tools depending on the account type chosen, and useful educational resources for traders wanting to learn how to trade.
The main goal of the company is to unleash your trading potential through cutting-edge technological innovation and financial proficiency.
The broker is proud to announce it is using the same level of encryption technology as international banks and major online retailers to protect personal data and funds. It keeps money into segregated accounts, operating under a no hidden fees policy. In case you are looking for a broker that operates globally (500Investments accepts clients from all over the world, except for countries where the local law forbids trading services) without the limitations of tight regulation, we hope our 500Investments review will provide more insights into the company.


Proprietary trading platform
Fully aware the entire process must take place on the platform, 500Investments relied from the start on in-house developed software. In doing so, the broker made sure the trading experience will be optimal and clients can get what they want. The platform comes with TradingView charts, Social trading capabilities, price alerts, one-click trading, popularity bar, and some other tools useful in the day-to-day operations.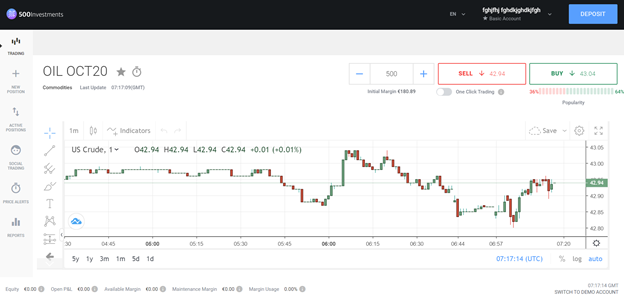 At first glance, its structure is very simple and does not require any special knowledge to use. At the same time, it is a very flexible and versatile software, given it can be used on any type of device (mobile, laptop, tablet, on top of desktop). 500Investments put all the functionalities inside the platform, which is why you can deposit/withdraw money, verify your account, or change settings without having to log into another page.
In case you want to switch to a demo account, there is a button on the left bottom of the platform to do that, and everything is changed to virtual funds within seconds. All-in-all, if you fancy web-based trading software, this one might be very appealing for you.
500Investments Assets
With 500Investments, clients can choose from 1,000+ different CFDs based on stocks, forex, commodities, indices, and cryptocurrencies. Leverage is as high as 1:400 for FX (for other assets it is much lower), spreads are floating depending on the market liquidity and volatility, while overnight swaps are in line with what other brokers are offering. For 1 million USD in trading volume, the broker does not charge any commission.
You can step into the world of currencies and trade major pairs (EURUSD, GBPUSD, etc.) minors (AUDUSD, USDCAD, etc.) or exotics (CADJPY, EURPLN, etc.) in one place. In case you want exposure on stocks, 500Investments covers hundreds of CFDs on stocks from popular markets like the USA, Germany, Canada, and others. Global indices are also part of the offer and allow traders to get exposure to broad market performances.
Commodities had been very active in 2020 and with 500Investments, clients can benefit from agriculture, energies, industrials, and precious metals. Lastly, you can trade contracts on Bitcoin, Ether, EOS, XRP, Litecoin, Dash, and some other popular cryptocurrencies with 1:5 leverage and tight spreads.
Account Types
When it comes to the 500Investments account types, there are 5 different options available:
Basic
Silver
Gold
Platinum
Diamond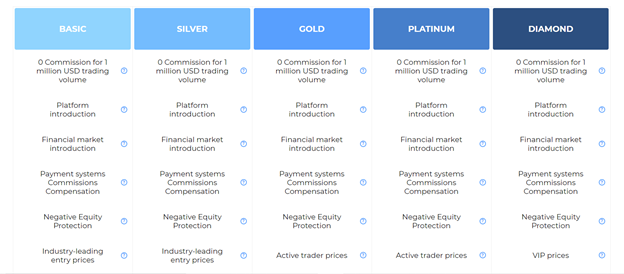 To start trading with this company, the minimum deposit required for a Basic account is 250 USD/EUR/GBP, which can be done using a credit/debit card, bank transfer, or BPay. In exchange, traders get access to industry-leading entry prices, 24/6 support, free access to a trading academy, daily market briefs, shares, trading price alerts, and a dedicated account manager.
At the same time, 500Investments wants to incentivize its clients to make upgrades by providing enhanced trading features such as VIP seminars & webinars, active trader or VIP prices, assistance from a senior account manager, exclusive updates, and giveaways.
Trading Education
Are you a beginner needing educational resources? Do you already have some trading experience but would like to improve? 500Investments cares about educating traders, which is why it offers access to webinars and seminars, eBooks, a trading academy, assistance from an account manager, and many other useful resources. You can learn more about trading the markets and try to improve your performance by finding all the information in one place.
Summary
Based on the features and benefits we've talked about, we can assuredly contradict any 500Investments scam allegations.
500Investments proves to be a broker able to provide all the necessary resources to help traders deal with financial markets. 2020 is a challenging year for traders and because of that, they need access to all the trading tools possible.
To find out more about what 500Investments can offer, visit the official website, or contact a representative. We welcome the fact that transparency is one of the core values and the broker provides all the information required.